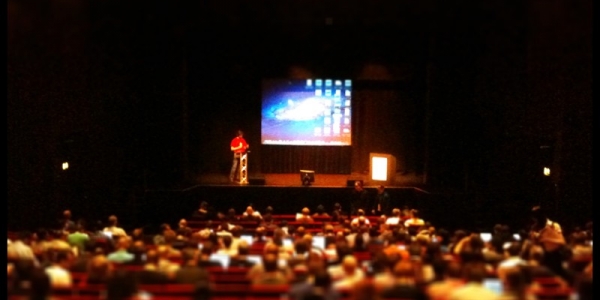 I think I may just about have recovered from this year's DrupalCon. A week of night time excesses and day time information overload – evenings too depending on who you're eating and drinking with. There's something to be said for attending closer to home and it was nice to see that London got the biggest turn out yet in the European stakes with 1800 visitors – up 50 per cent on the 1200 registered last year.
DrupalCon has grown unbelievably since its start in 2005 with just 50 attendees. I'm one of the relatively old-timers having visited my first DrupalCon in 2007 but there was still a lot of stuff going on that I missed out on or was only made aware of after the event through twitter et al. On the whole, I had a good idea of how to make the best of the week but I did wonder what value the first-timers got from it all and what percentage of the conversations and debates happening in hallways and side rooms that filled the week totally bypassed them.
Core conversations, BoFs, Sessions?
As the conference is evolving all the time, there is a lot to take in. Glancing in on some of the BOFS (aptly named 'Bird Of Feather' sessions), Core Conversations (developers debating Drupal 8), Business events, CXOs (where businesses met to discuss the future of Drupal in business) all going on in separate locations, it made me wonder how many newcomers were aware of their existence. It is increasingly important to raise awareness of all the activity and not just the headliners.
The key point to remember is that Drupal is a geographically distributed community with members spread out all over the world. It is possibly only twice a year these people have an opportunity to get together – it's important that they make the most of it.
So why do DrupalCon?
For the agency owner, it's a chance to network and forge new collaborations; for the student, it's an opportunity to get involved in contributing to Drupal and to learn more technical aspects; for the business user, he or she can see how other companies have achieved success using Drupal; for the developer, it's an opportunity to learn the latest innovations; for the local Government worker, it will help he or she to develop an understanding of Drupal's strengths; for the recruiter, it's a chance to see who's out there and for third party vendors, there is a whole host of sponsorship opportunities.
So for the next one, let's have a blog that pulls all the necessary information together so that everyone maximises their chances and we continue as a community to go from strength to strength. Long live DrupalCon – next year's European extravaganza is planned for Munich and I have my passport ready and waiting. See you there!
Forthcoming DrupalCons
DrupalCon Denver - March 19th-23rd 2012
DrupalCon Munich - August 20th-23rd 2012