Welcome to Rob, Kirsty and Elle!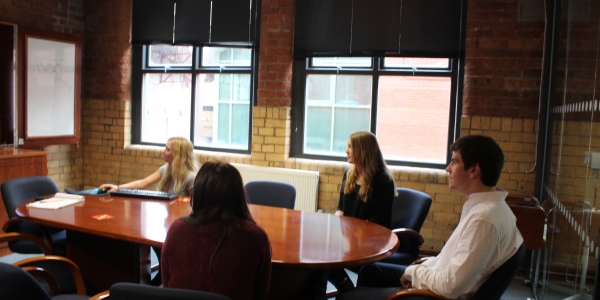 For the next six months, we will be welcoming three students through our doors for one day per week as part of the successful 'Agency Life' scheme in partnership with Manchester Metropolitan University Business School. 
The scheme offers students the opportunity to experience the reality of working in a busy marketing agency, to prepare them for their placement year when they will work full time as part of their degree.
Rob, who's studying Marketing Management, told us; "I hope to gain a clearer understanding of digital and how it is implemented to give the client a greater analysis of the market.
"I'd like to be able to look at analytics and from that come up with a creative way of benefitting clients. 
"So far I have learnt a lot about Google analytics and how to get the most out of it as a resource as well as the set-up of the agency and how the team works together."
The agency Life scheme assesses students on their professionalism as practitioners as well as on the things they produce in the workplace, so the heat is on for them to make sure that they work hard on all the projects that we set them!
Kirsty, studying for a degree in Advertising Management and Brand Management, said; "I hope to gain experience that will help me in finding placements for 3rd year and when leaving Uni and finding a job!"
To make sure the students get the most out of the scheme, Digital Marketing Manager James Wilkinson has put together a comprehensive six month plan covering all aspects of the type of work that goes on in a busy agency such as Livelink.
"I understand first-hand from my days at Uni just how important it is for students to gain real work experience!
"Not only does it help inform your future career choice but also it gives you that competitive edge which, with more and more graduates applying for every position, has never been more important.
"We're delighted to be taking part in Agency Life for a second year helping to shape future talent, and I hope that Rob, Kirsty and Elle all take as much away from the experience as we will."
Elle has already been tasked with writing a report to analyse a digital marketing strategy and make recommendations on how it could be improved; "One of the things I have learned so far is the importance of deadlines! 
"If one person is slightly delayed in completing a task, it continues to have a huge knock on effect for the rest of the project!"
With the students already learning lots about agency life and the office busier than ever with all of the new additions, everyone here at Livelink is looking forward to the next six months! 
To find out more about the Agency Life scheme, click here.