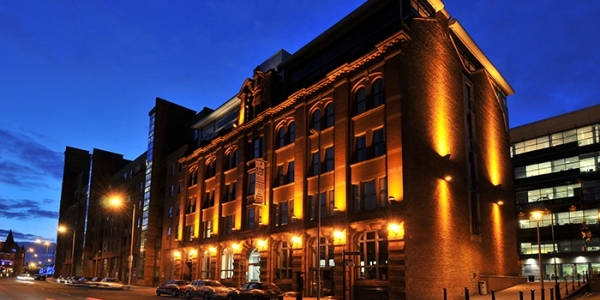 Livelink has moved to a brand new office! Bigger, brighter and shinier, our new home on Whitworth Street has seen us relocate just five minutes around the corner to the Merchant Exchange building.
Merchant Exchange is a Grade II listed former warehouse building constructed in 1904 and transformed in a major redevelopment to high quality offices in 2008. The building is also located opposite 'Home' - Manchester's new arts and culture centre due to open in spring 2015.
We were sad to say goodbye to our old office which saw us more than double in size but, the time had come for us to leave to allow further expansion and make way for new talent. The move coincides with us welcoming in new Marketing Manager, Giovanni di Cosmo, who brings an array of new skills to the marketing team.
We've also evolved in the last few years from a compact web design agency to a full service digital agency, meaning we really needed some extra space. It's an exciting time for us as we begin a new chapter in our history, more than doubling our floor space to 4,000 square foot! 
The new office also includes three meeting rooms, a designated sales zone, a breakout stretch and a chill out area. We've tried to incorporate staff ideas in the office design, with each member of the team having input on the Manchester-themed interior.
Merchant Exchange will provide us with the creative environment we need in order to explore new opportunities and increase the number and quality of services that we offer our clients, and I'm looking forward to getting stuck in.
If you'd like to drop by for a coffee and to have a look around, please let me know!