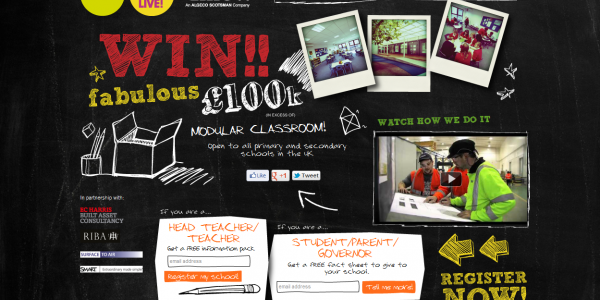 Livelink continues to establish itself as a Drupal heavyweight as the team celebrates being selected as runner up for the 'Best Social Website Built With Drupal' at the inaugural Blue Drop Awards.
We entered with one of our recent showcase websites (one of many in our growing portfolio), http://refurborrebuild.co.uk/, and it did us proud. The website was built for our client, Elliott Modular Buildings, for its Refurb or Rebuild LIVE! competition. The prize saw two lucky schools win a brand new modular classroom, including furniture and fittings, worth £100k. As well as the website, we created our client a Facebook page in to help create a viral buzz and get the right target audience involved.
Fully demonstrating Livelink's web engagement management services, we constructed a cross-channel campaign for Elliott. This integrated email, social media websites like Twitter and Facebook as well as the web to target head teachers, children, mums, staff and governors – who might pester the relevant senior staff member to enter. All this, within a limited time window.
The easy-to-navigate website integrated a Facebook app as well as Twitter, and email forms. Simplicity and easy navigation ensured high numbers of competition entrants.
It clearly did the trick for all who voted for the Blue Drop Awards as well as for our client, positioning Livelink alongside the other Drupal agencies shortlisted across the various categories.
The Refurb or Rebuild Live! website is fairly atypical of the type of Drupal website that employs web engagement management that we are now regularly delivering at Livelink. Taking a multi-channel approach maximises the opportunities we can give our clients to nurture site visitors and achieve their goals.
The great thing about the Blue Drop Awards is that, in the spirit of Drupal, they are open. They aren't voted for by a panel but by pretty much everyone inside (and outside) the Drupal community. There were over 200 nominations across nine categories this year and the most innovative and progressive sites were selected.
It's great that we are finally driving recognition for Drupal – these awards are something of a first. I hope they achieve the organisers' goal to promote Drupal to the wider community. After all, Drupal remains the largest and best open source technology community in the world.