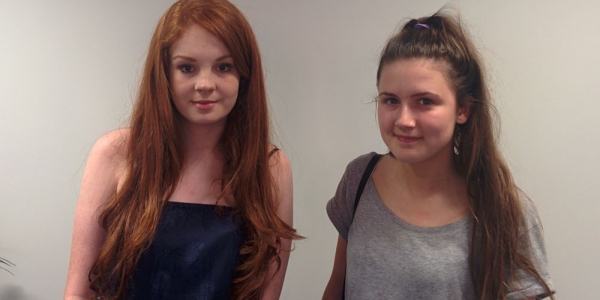 One of Livelink's key policies is to support training and education. The industry needs a constant supply of fresh blood as it is still a young and fast-moving environment that thrives on learning – It's developing all the time. For the past couple of years we've welcomed 'Agency Life' students from Manchester Metropolitan Business School and we always have our fair share of interns and recent graduates across all departments, however this year we wanted to reach a younger audience.
PK was keen to give secondary school children a chance to come in and talk to us as part of an on-going Livelink initiative to foster an interest in digital for younger students who might not fully understand the wide scope of careers available in the industry and what our work entails. So, fresh from their GCSEs, Hannah and Edie spent a few days observing the team, working on guided projects and generally absorbing the office atmosphere.
Hannah, who travelled from North Wales to take the opportunity, had this to say: "I didn't quite know what to expect from Livelink, initially. The prospect of a digital agency seemed foreign to me and I was extremely anxious to find out what was in store. On arrival, I was pleasantly surprised. There was a great atmosphere and I was immediately made to feel welcome. I was given the opportunity to carry out some background research for a new project and was also invited to shadow Victoria, who talked me through all she did, including email marketing, analytics and social media management. I also had the chance to find articles and other pieces of interest in relation to the company for the twitter page, which I also really enjoyed.
"During my time here, I feel that I have really acquired a good knowledge and experience of life in the workplace. This opportunity has allowed me to gain a great insight into the industry and I feel that I would like to learn more about a career in digital media as it's an avenue I'm keen to pursue. I'm extremely grateful to PK, Louise, Victoria and all the team for giving me the chance to come in and work with them."
Edie Hector from Heaton Moor in Stockport was equally happy to have spent some time with us: "This experience has given me a taste of life in the world of work (and digital media) and it's safe to say I am much further along in my knowledge and understanding of the possibilities digital marketing opens up for a business than when I first began. It's been a remarkable experience and I have met some lovely people here.
 "Working at Livelink has sparked an interest in digital media for me. I've really benefited from viewing the positive impact digital products and services can have on a business and, as I would one day like to own a business of my own, it has been useful to see how a business can use digital marketing to its advantage to enhance and build a customer base and how a website can generate a high level of sales.
"I thoroughly enjoyed researching the variety of work Livelink does and reading up on how Livelink's work benefits businesses and their customers. Overall, I've had an interesting and rewarding work experience placement which I have thoroughly enjoyed - Many thanks to the Livelink team!"
It was great for us to see the girls engage so quickly with what we do  - Not to mention not having to make our own drinks for a few days. I could certainly get used to that! Thanks Hannah and Edie and good luck with sixth form and college. We expect to hear great things!