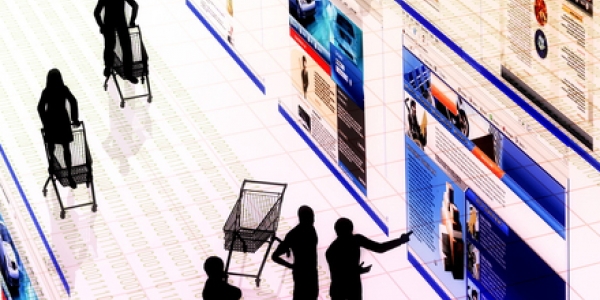 In a report presented to the Government towards the end of last year, Mary Portas laid out a series of recommendations to revitalise the High Street and, at the same time, identified the villains that were the cause of this once all-embracing, key community focal point's demise. High on her list was the out of town retail locations but I would challenge this and place on-line retail as the conquering force with blood on its hands.
The growing trend to buy on-line is fast becoming the norm. Non-food on-line sales have 14 per cent of the market today but are forecast to jump to 34 per cent by 2020, according to research from retail consultancy, Javelin.  Sole internet players who have no bricks and mortar shops like Asos and Amazon are expected to double their share of the total market in the coming years whilst the number of chain stores in town centres are expected to fall by as much as approximately 30 per cent in the same period.
Christmas has been particularly hard for retailers this time around in general. Spending was predicted to be down by 3 per cent on the previous Christmas as consumers have faced rises in food and energy costs and there simply is less money to spend. 
We're in a period of government austerity, disposable incomes are lower and who knows what the fall out of the Eurozone debt crisis will be. As 2012 unfolds, the battle for consumer spend will be a tough one. There's less to go around and the consumer is more savvy and has far more options on how to make that spend. 
It's ironic that, in such hard times, the consumer is faced with a plethora of channels making it ever easier to spend money – and, retailers out there, it's your job to utilise every channel you can as you're going to have to fight really hard for that spend. Each channel – the traditional store, catalogue, phone, smart phone, tablet, web and in-store kiosk – has risen in importance.
And, take note, modern commerce doesn't recognise any boundaries. Both business to business and business to consumer markets are busily engaging a mix of online and offline channels to reach new and existing customers. 
The key point is that there are no hard and fast rules and there is no single way of buying an item any longer. It's time to take the blinkers off and look at other channels. All retailers will have to work smarter to protect their market share this year.