Livelink visits local school as part of BIMA Digital Day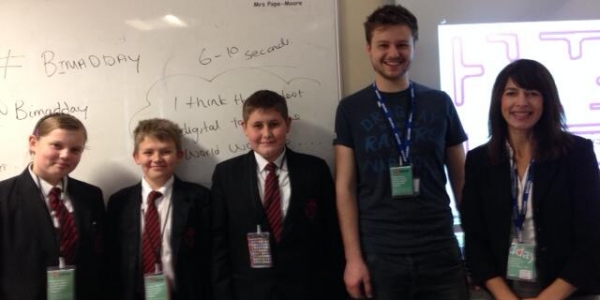 On October 10th, Livelink was lucky enough to take part in the national BIMA D-Day, to link digital professionals from across the UK's creative & professional sectors with young people in schools and colleges.
Key Account Director, Lynne Parkinson and Developer John Sanderson represented Livelink at the Radclyffe School in Oldham, where they spent the day with a class of year 9 Computer Science and Business students. 
Lynne kicked off the day by giving a talk to introduce the students to the functions of a digital agency, including the history of Livelink and how we have evolved, as well as the careers that are available within the digital sector.
Lynne was keen to explain about the digital industry; "I wanted to highlight the fact that there are so many different roles available and, because digital is rapidly evolving, there are new positions being created all the time.
"I also wanted to get across that age is not a barrier within digital, it's a young industry to be in and, also – we're not all geeks!!!"
The afternoon was spent helping the students as they worked on a coding 'challenge', in which they were tasked with working as a team to build an online learning tool to help children learn their times tables. 
John was impressed with the students; "It was great to see how well they worked as a team and I was genuinely impressed with the innovative ideas that they all came up with in order to complete the challenge.
"I think that if the students continue working at that level then in a few years they might even be able to teach me a thing or two!!!"
At Livelink, we're always keen to get involved with helping to develop future talent and currently have three students working with us for one day per week as part of MMU Business School's Agency Life scheme, as well as two full time interns who are completing their placement year with us.
Lynne added; "I'd just like to say thank you to everyone at The Radclyffe School for having us for the day.
"Both John and I were very impressed with the students' abilities, it was great to be involved with the event and to help increase awareness of the huge and exciting opportunities across the digital sector."
To find out more about BIMA Digital Day, visit the website.