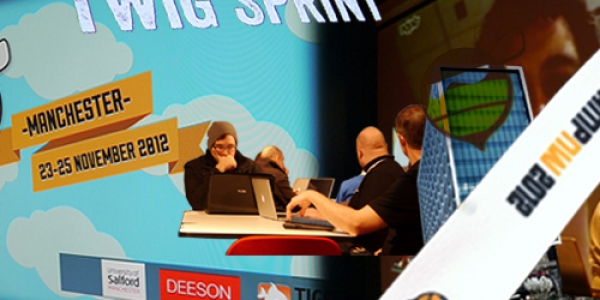 Livelink was proud to be a Gold Sponsor of last weekend's Drupal Camp North West event – not least because Salford University put on such a spectacular show, making the most of the space at the Media City venue with digital tables and cutting edge graphics, not to mention 3D animated holograms that literally stopped the audience in their tracks. It truly is an inspiring venue and the excitement that is being generated around Media City as a hub of talent and creativity is most certainly well-deserved.
And so on to the event itself... With a turnout of 150, including a mix of Drupal enthusiasts and the curious (30 of which were Salford University's own students), the stage was set for an enjoyable and interactive event. Lead speaker was the charismatic MortenDK (self-proclaimed 'King of Drupal' and general hell-raiser) who amused by making his keynote speech, 'The Angry Themer', anything but angry. Having spent the last six years ranting about the state of the front end of Drupal, MortenDK admitted that he now has nothing to rail against as the front end has been fixed by the Twig framework. Instead he chose to dedicate his slot to praising Twig.
With a film crew on site for the duration of the event, part-funded by the Drupal Association, the Community Cultivation Grant and the residue from the pot created by the sponsors, two films of the event are expected to be released in the next couple of weeks and will hopefully do their job to promote Drupal to the wider community.
I have to save the final mention, and what is guaranteed to be one of the lasting memories of this event, for the Camp's youngest attendee, a 12-year old boy from Somerset, Blane Van Hooft, who jumped in the car with his dad, Stefan Van Hooft, and made the journey up to Media City to attend the weekend. During the 'Unconference' on Sunday, where the audience decide what's going to be talked about, young Blane put a shout out to play 'Mind Craft', a game that allows you to create your own parts and throw it out to the net, using Drupal. It was great to see this child welcomed with open arms and proves the point that Drupal is open access and welcomes all – age is no barrier with the open source community.