Manchester United Soccer Schools wanted to increase sales of football camps to the parents and guardians of students from the UK and abroad wishing to study English as a foreign language during the summer months.
The task at hand...
Three month strategic campaign 

Search marketing, covering search engine optimisation (SEO) and pay per click (PPC), and remarketing activity 

Services including social media management, display advertising, Facebook advertising, email marketing and copywriting.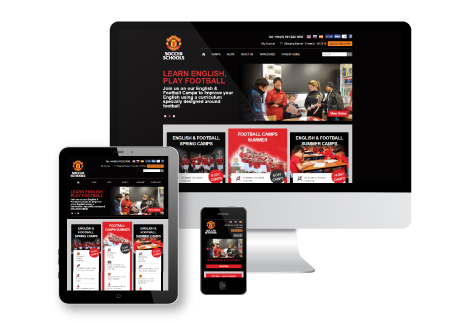 There was an overall rise in on-line sales of football, with English as a foreign language, camps of 30% as a direct result of our multi-channel marketing strategy. The email campaign was a particular success with individual campaigns such as the abandoned basket campaign achieving exceptionally high conversion rates.
Click here to visit the Soccer Schools website.  
The bottom line. High conversion rates and 30% rise in sales.
We put ourselves in Livelink's hands, gave them all the relevant background information, budgets and timescales and allowed ourselves to be fully guided by their strategic thinking. We were assured from the outset that they would help us to increase sales and make a very real impact on our bottom line and they have done exactly that.
Head of Manchester United Soccer Schools