On-line luxury lingerie retailer, French Affaires was keen to expand its primarily female audience and introduce the brand and its products to a male audience. With Valentine's Day approaching, the retailer had a strong purpose to base its communications on.
The task at hand...
Strategic social media campaign

Audience segmentation

Design of Facebook app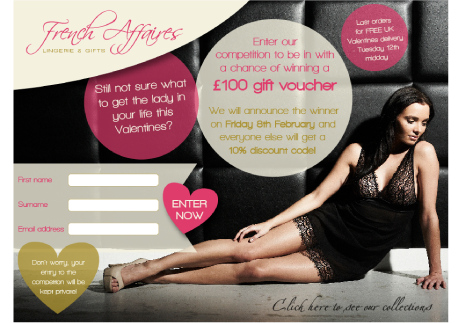 The number of 'Likes' doubled while the competition was running, increasing audience engagement and, most importantly, catching the attention of the intended male professional audience with figures revealing that 62% of the male target audience had engaged.
Click here to visit French Affaires.
The bottom line. Sales were generated as a direct result of the app.
The Facebook App served to expand our existing audience and introduced the brand to a whole new audience. There was a knock-on effect as it generated some new business and increased our overall market. Great results!